You are here
Sedaring Kejawen #1 (Kejawen in Multidisciplinary Insight)
Primary tabs
Submitted by

pbjawa

on Thu, 2021-04-15 11:09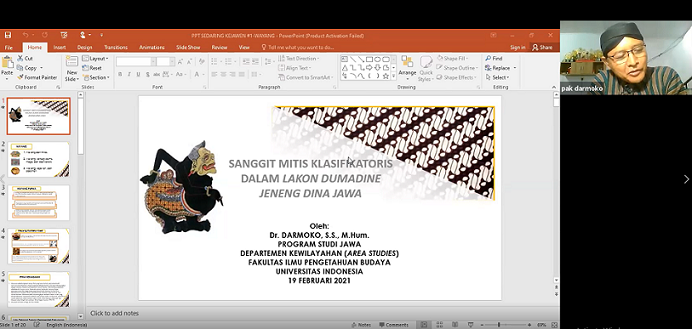 Yogyakarta, February 19, 2021--The study program held seminars on the network (Sedaring) in order to re-socialize the "presence" of the journal belonging to the study program. Kejawen: Jurnal Kebudayaan Jawa, which was developed into an open access system (Open Journal System), is expected to be able to facilitate academics, students, researchers, teachers, and others to be able to share writings related to Javanese culture. The first one, Sedaring Kejawen #1, has the theme "Kejawen in Multidisciplinary Insight". In this Sedaring Kejawen #1 activity, invited speakers from several universities to become resource persons to present their writings in the form of articles. The resource persons who spoke at the Sedaring Kejawen #1 activity included: Dr. Darmoko, M. Hum. (FIB, University of Indonesia), Dr. Dwi Sulistyorini, M. Hum. (Faculty of Letters, State University of Malang), and Azis Heru Iswanto, S.Pd. (S-2 Pend. Javanese Language, Yogyakarta State University).
This online event, which was held for the first time, was opened directly by the Editor Inchief Kejawen, namely Prof. Dr. Suwardi Endraswara, M. Hum. which was then continued with the introduction of the Kejawen website (https://journal.uny.ac.id/index.php/kejawen/index) as well as how to register and submit manuscripts for prospective articles to be published in the Kejawen Journal by Doni Dwi Hartanto, M. Pd. (Associate Editor Kejawen).
The Sedaring Kejawen #1 event received quite a lot of enthusiasm from various circles. It was noted that the first online participants reached almost 140 participants. Participants who attended also came from various circles, such as academics from various universities both in Java and outside Java, teachers, humanists, and lovers and observers of culture, especially kejawen. The Sedaring Kejawen #1 event received a very positive response from the participants, some of them even suggested that the Sedaring Kejawen event be held more often. Initially, the online activities were planned to be held twice a year, following the publication of the journal articles.