You are here
Merdeka Belajar Kampus Merdeka (MBKM) Program UNY-Unnes
Primary tabs
Submitted by

pbjawa

on Thu, 2021-04-15 11:26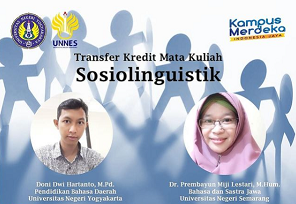 Yogyakarta, March 31, 2021-- Prodi Pendidikan Bahasa Jawa FBS UNY collaborated with Pendidikan Bahasa Jawa Unnes to organize the Merdeka Belajar Kampus Merdeka (MBKM). This MBKM program is carried out by conducting a Credit Transfer for Sociolinguistics Courses with Dr. Prembayun Miji Lestari, M. Hum. (Unnes) and Doni Dwi Hartanto, M.Pd. (UNY). This collaborative program has been planned some time in advance to hold student exchanges between the two majors.
The opening ceremony was held on Wednesday, March 31, 2021 by the Head of Study Program Pend. UNY's Javanese language, Dr. Afendy Widayat, M. Phil. He gave directions related to the collaborative activities to be held in order to achieve optimal outcomes. The event continued with the introduction and socialization of the program that will be carried out in lectures by Dr. Prembayun Miji Lestari, M. Hum. as a lecturer as well as Head of the Department of Javanese Language and Literature Unnes.
The MBKM program with Credit Transfer for Sociolinguistics Courses is planned to last for six meetings. This was taken considering the number of meetings that the two majors had taken were different. Students from UNY are students in semester 6, while students from Unnes are in semester 4. It has also been agreed to produce a practical theory book related to Sociolinguistics courses. The lecture program carried out is also adjusted to the schedule of each department, namely on Wednesday at 07.30 WIB for the UNY class, and Friday at 09.00 WIB for the Unnes class. The transfer program starts running in the first week of April 2021 according to their respective schedules.